<![if !vml]>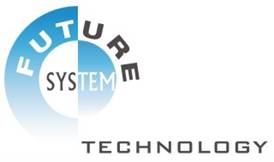 <![endif]>
<![if !vml]> <![endif]>

FUTURE SYSTEM TECHNOLOGY SDN. BHD.
Malaysia Head Office
88-2-3 Sri Wonder Complex,
Lintang Sungai Pinang,
10150 Penang, Malaysia.
Tel: 604-2812328
Fax: 604-2828328
China Head Office
Conrad Hi-Tech Park Blk C1 Level 4,
Shangsha Section of Zhen An Road,
Chang An Town, Dongguan City.
Tel: 0769-81764811
Fax: 0769-81764812
Service Centre
TianJin, Shanghai, ShenZhen
COMPANY OVERVIEW
Future System Technology Sdn. Bhd. was founded with the initiative to provide high quality, solid and fast solutions for all aspects of the industrial automation market. We leverage our expertise and experience in the areas of software development, engineering, system integration, and data management to market a variety of solutions and services. Our focus is on design and installation of Automated Systems that will meet the needs of our customers for today and in the future.
Future System Technology is dedicated to provide a product that meets or exceeds customer specifications, on-time delivery and is offered at a competitive price. We have well established clients nationwide that can attest to our quality service and technical expertise.
We are specialized in the following area:-
ORGANIZATION STRUCTURE
<![if !vml]>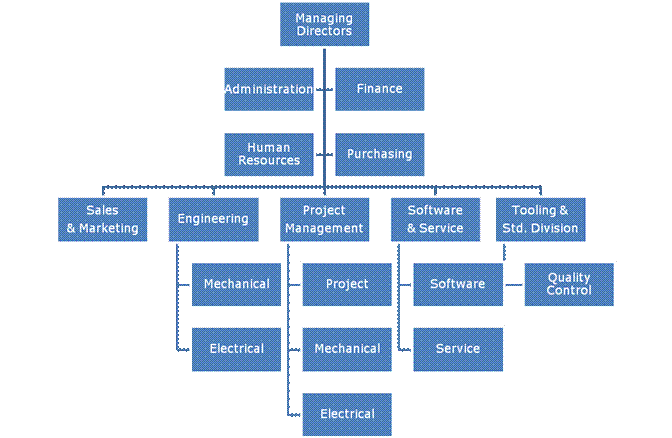 <![endif]>
Our organization comprises of 45 staffs and is divided into 5 divisions, each specializing in areas of Sales & Marketing, Engineering, Project Management, Software & Service and Tooling & Standard Division. All our staffs are fully qualified and experienced not only in technical skills but also interpersonal skills.
Our staffs are committed to providing timely delivery and professional implementation of all offered solutions and services with outstanding customer service and support to ensure customer satisfaction.
Sales & Marketing
The Sales and Marketing division is responsible for sales, establishing marketing strategies and new business development.
Our Sales and Marketing goal is customer satisfaction. We concentrate on tracking industry trends and understanding customer needs in order to provide customers with the solutions they need to meet their requirements. We deliver technical support through well-trained sales representatives who have experience in this area.
Engineering
The Engineering division is responsible for customized machine automation; and design of mechanical and electrical parts. This division consists of strong team players who have knowledge of machine automation, engineering materials and any related mechanical equipment and electrical components.
Project Management
The Project Management division is responsible for standard machine automation, assembly mechanical parts and machine wiring. All our engineers are well-trained to make sure all completed works meet specifications and safety standards.
Software & Service
The Software & Service division is responsible for PLC programming and developing any software-related applications. Our software development teams continue to innovate and deliver quality software with the latest technologies.
Tooling & Standard Division
The Tooling & Standard Division is responsible for fabrication, mass production tooling and wire harnessing solutions. There will be a Quality Control team to assure that quality and accuracy of products to meet all requirements.
COMPANY HIGHLIGHTS
Auto Unloader

BIS Cycling Machine

Bobbin Pin Inserting Machine

Bonding Machine

Burn In Board Cycle Tester

Control Panel

Conveyer System

Disc Semi Auto Assembly Line

Dispenser System

Insert Marking Forming Machine

Jazz2 Tester Handler

Jig and Fixture

Label Applicator (PCBs)

Lead Frame Unloader

Manual Taper

Pick and Place

RF Tester Handler

Semi Auto Sys-test Handler

Snooker Management System

Test Handling System

Tidal Barrage Control System

Torque Monitoring System

Units Marking Handler

Wafer Taping Machine
Auto Unloader

<![if !vml]><![endif]>

BIS Cycling Machine

<![if !vml]><![endif]>

Bobbin Pin Inserting Machine

<![if !vml]><![endif]>

Bonding Machine

<![if !vml]><![endif]>

<![if !vml]><![endif]>

<![if !vml]><![endif]>

<![if !vml]><![endif]>

<![if !vml]><![endif]>

<![if !vml]><![endif]>

Burn In Board Cycle Tester

<![if !vml]><![endif]>

<![if !vml]><![endif]>

Control Panel

<![if !vml]><![endif]>

<![if !vml]><![endif]>

<![if !vml]><![endif]>

<![if !vml]><![endif]>

Disc Semi Auto Assembly Line

<![if !vml]><![endif]>

<![if !vml]><![endif]>

<![if !vml]><![endif]>

Dispenser System

<![if !vml]><![endif]>

<![if !supportMisalignedColumns]>
<![endif]>
Insert Marking Forming Machine

<![if !vml]><![endif]>

Jazz2 Tester Handler

<![if !vml]><![endif]>

<![if !vml]><![endif]>

Jig and Fixture

<![if !vml]><![endif]>

Label Applicator (PCBs)

<![if !vml]><![endif]>

Lead Frame Unloader

<![if !vml]><![endif]>

Manual Taper

<![if !vml]><![endif]>

Pick and Place

<![if !vml]><![endif]>

<![if !vml]><![endif]>

<![if !vml]><![endif]>

<![if !vml]><![endif]>

<![if !supportMisalignedColumns]>
<![endif]>
Semi Auto Sys-test Handler

<![if !vml]><![endif]>

Test Handling System

<![if !vml]><![endif]>

<![if !supportMisalignedColumns]>
<![endif]>
Tidal Barrage Control System

<![if !vml]><![endif]>

<![if !vml]><![endif]>

Units Marking Handler

<![if !vml]><![endif]>

<![if !supportMisalignedColumns]>
<![endif]>
Wafer Taping Machine

<![if !vml]><![endif]>

<![if !supportMisalignedColumns]>
<![endif]>